"Lake House" is right on Lake George, has five bedrooms and four full baths, a screened porch, and a pool table. The dining room table seats ten easily.  There is an extra-wide two-car garage for parking and storing gear. At the waterfront is a boat house with docking for a boat and a deck with glorious views.  The swimming is great. There are also a campfire ring and sandbox and playhouse for the kids. Everyone loves the total privacy on the entire one-acre property.
Learn more...
Woodland House is right across the highway from Lake House on Lake George. It has 4 bedrooms and 4 full baths and sleeps 10. Its bright woodwork inside and lovely woodland setting allow you to commune with nature in a quiet, peaceful setting with all the comforts of home. A private hiking trail around our 50 acres of woodlands guides you past tall cliffs, rock ledges, a deep gorge, and small streams and at the trail's end magnificent views of the lake.
Learn more...
Melissa and her family lived in Lake House for a number of years, taking in  Lake George's exquisite beauty and taking advantage of the fine boating, swimming, and hiking available. As their family needs evolved the house grew to accommodate them. Now Melissa lives two miles away in a house on Smith Brook in Diamond Point. She is passionate about protecting the lake's complex ecosystem so generations to come will be able to enjoy it as much as she does.
Beautiful, Clean, and Natural
Whatever the season… Lake George is wonderful. Throughout the day, the sun, waves, shadows, and colors change again and again from one beautiful image to the next.
Set in the Adirondack mountains, this natural glacial lake with its deep, crystal clear water is surrounded by mountains and preserved and protected by the Lake George Park Commission. In many ways, it is unchanged from the time when the battles of the American Revolution were fought on its shores.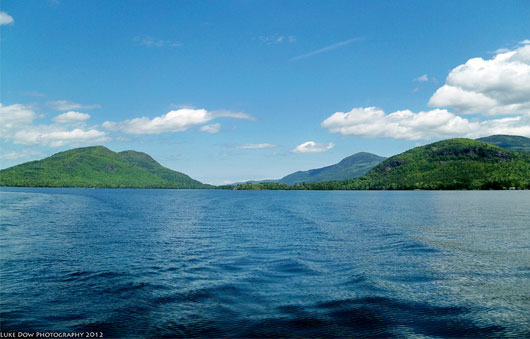 Quick Comparison...
Lake House or Woodland House? Click to compare them at a glance.